All posts may contain affiliate links. Please read my disclosure for more info.
Everyone knows that cats go crazy for a butterfly cat toy they can chase around.
If you're a cat lover, you probably enjoy watching your furry friends go crazy with those fancy automatic cat toys. And if I asked you to think back to the best moments you've had with your cats, I bet the first thing that pops into your head is them goofing around and having a blast while playing.
Toys that let cats do their thing, like batting, pouncing, stalking, and conquering, bring so much joy to both them and their humans. And guess what? Electronic cat toys let cats unleash all these instincts too!
From the cat's point of view, there is just one rule for choosing the right toy: variety. Cats like to choose their own toys.
Rotating Butterfly Cat Toy: Cats Love It!
Have you ever wondered why cats choose to play with one toy over all the others? Well, the truth is, we're not quite sure about the internal process that drives them to make that decision. However, one thing we do know is that cats absolutely love having a variety of moving cat toys to choose from. It seems to make them the happiest little furballs! So, let's dive into some fantastic toy options that are simply purrfect for our feline friends.
Automatic, electronic toys are always a great choice for self play cat toys. Caroline's Cats Butterfly Cat Toy on Amazon is a great choice to keep your kitties busy and entice their hunting instincts.
Cats can get bored inside and you may not always be around to play with them. It's important for cats to play by themselves, and interactive cat toys that they can play with on their own can help keep them happy.
Other Cat Toys
Puzzle balls allow cats to playfully engage with and conquer their "prey."
Catnip toys are very attractive. Caroline's Cats butterfly cat toy contains a catnip ball to entice your cats.
Chew toys can help stop cats from chewing on things like cords, furniture, shoelaces, and your body parts. They also help keep their teeth clean and breath fresh.
Cats love mouse toys and plush toys. These toys absorb the pheromones that cats release while playing, making them great for making your cat feel relaxed and at ease in her carrier.
Cats of all ages enjoy scratching posts, and their owners appreciate that their cats are not scratching the furniture.
Tunnels are a good spot to find your cat when they hide
Humans can have fun with wands and teasers just like cats do.
It's difficult to make a mistake with a pack of popular cat toys. Or a fluttering butterfly cat toy to make your cat purr. See this article to find out more about why cats purr.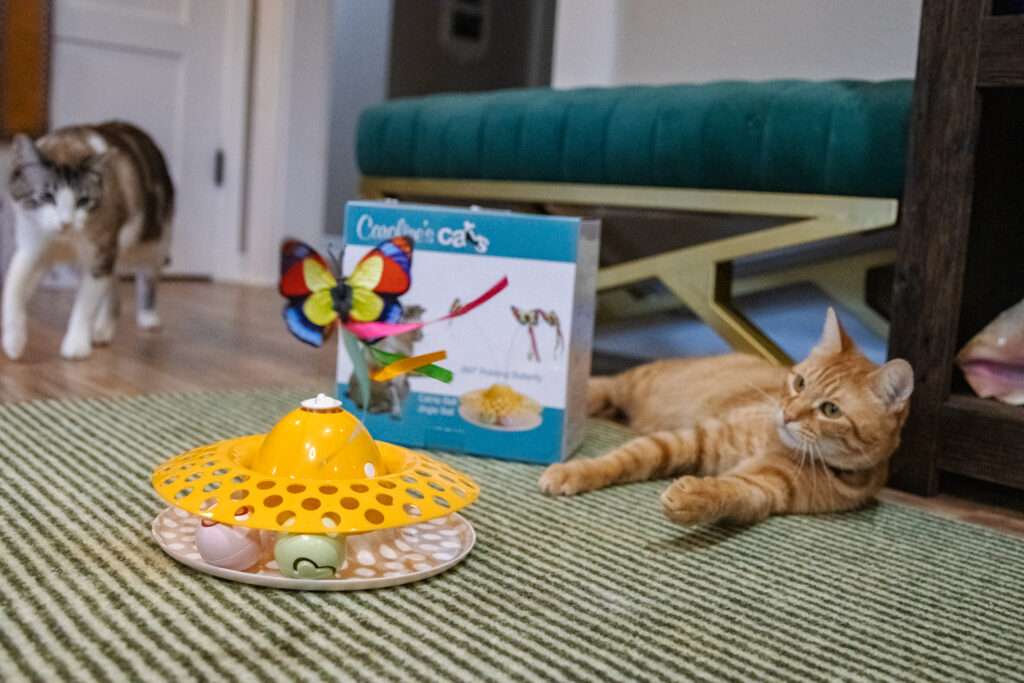 Cats Need to Play
Keep in mind that cats require toys that are specifically designed for them. They don't need toys that are too big for them like human-sized toys, or too small like hamster-sized toys. The size of a cat toy should be small enough for the cat to play with comfortably, but big enough to prevent any accidental swallowing.
Remember, cats need safe toys. If a cat swallows something, their tongue can't spit it out. Toys with strings or tassels can hurt their stomach, and trying to take them out can make it worse.