All posts may contain affiliate links. Please read my disclosure for more info.
Here's a SmartyKat Feather Whirl Electronic Motion Cat Toy review to help you decide if this electronic cat toy is right for your kitten.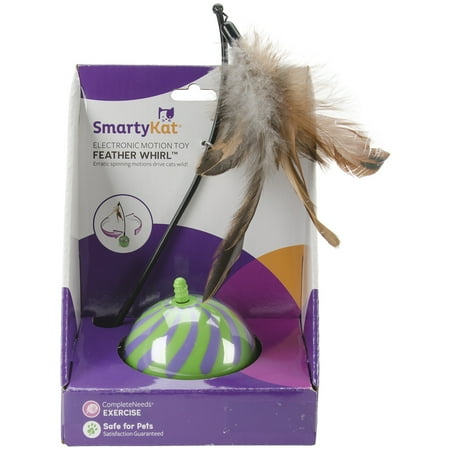 I purchased the SmartyKat Feather Whirl Electronic Motion Cat Toy for my cats a few weeks ago.
The Feather Whirl Cat is said to combine the excitement of a wand toy with the automatic and erratic motion of an electronic cat toy.
The weighted base of the Feather Whirl creates a unique wobble motion while the real spinning feathers at the tip of the wand activate your cat's natural instinct to swat and pounce. The whisper-quiet motor turns on with a touch of a button.
Features of the SmartyKat Feather Whirl Include:
Whisper-quiet motor that won't scare cats

Simple push-button on/off

Feathery wand attachment screws into base so it won't detach during play

Weighted base creates unique wobble motion

Outer casing made with recycled plastic

Safety tested to child safety standards

Requires 2 AA batteries (not included)
Here is a video from the manufacturer:
SmartyKat Feather Whirl Electronic Motion Cat Toy Review
Okay, this is a great description, it's a great-looking product, and it functioned as advertised.
However, my cats would not touch it. They were all interested, but one of my cats, Phoenix, attempted to grab the feathers with her mouth and was "slapped" by the toy.
None of my 4 other cats would attempt to "attack" the toy, and after watching it for awhile, they all lost interest and left. My youngest cat, Munchkin, did chew on the SmartyKat Feather Whirl after I turned it off.
It's my opinion that the toy moves too fast and is essentially nothing more than "cat-slapper."
This cat toy has decent reviews on Amazon earning 3.7 out of 5 stars. So if your cat likes fast-moving objects, you may want to try it.
The SmartyKat Feather Whirl Electronic Motion Cat Toy apparently isn't for some cats.
If this toy is for a new cat or you're thinking of adopting a kitten, this article will help you with the items you need for your new pet.