All posts may contain affiliate links. Please read my disclosure for more info.
Located in Fayetteville, NC, Fayetteville Animal Protection Society, Inc. (FAPS) is the only state-licensed, no-kill, non-profit animal shelter in Cumberland County.
This shelter is supported by volunteers, individual contributions, and grants. They receive no state or federal funding and rely on the community to support their mission of rescuing companion animals and placing them in their forever homes.
This is their mission statement according to their website:
The mission of Fayetteville Animal Protection Society, Inc. (FAPS) is to provide a licensed, No-Kill shelter for homeless animals until adopted into a loving and caring lifetime environment; to reduce the population of stray animals; and to promote responsible pet ownership.
This organization holds a special place in my heart because I adopted a cat from there.
In 2002 this shelter was known as Animal Haven. At the time, I was recently separated, living alone, and my ex had custody of my 3 kitties because that was best at the time.
I had just received an unsettling medical diagnosis, and shortly thereafter, I found myself at Animal Haven looking at cats.
My friends advised me against adopting, but I really couldn't help myself.
The shelter staff had left me alone in the cat room, and they had taken a 3-month old kitten out of her cage so I could hold her and play with her. Then they made the mistake of leaving me alone in the cat room. As I mentioned earlier, I was feeling down about my health, and I'm sure I wasn't thinking clearly. Not long after they left me alone, I proceeded to take ALL the cats out of their cages. Soon there were about 15 or so cats running around the room.
There was a sofa in the room, and I sat down and just watched all the cats enjoying their freedom while I wondered if I was really going to take one home with me.
The next thing I knew, one of the cats was sitting in my lap and purring away. She was an adult, black and white, tuxedo cat. I knew instantly that this was my cat. It was as if she had always been mine, she was just waiting for me to come and get her.
When the young man who had been helping me returned to the cat room, he was surprised to see all the cats loose, but he didn't seem upset. I told him I wanted the tuxedo cat. He said her name was Tina. He also told me she was free to adopt because nobody wanted her.
How could that be? No one wanted this beautiful, affectionate cat?
It turns out she had a benign polyp in her ear. It had already required one surgery and would likely need to be removed again since it would grow back. No one wanted to take on the financial responsibility of a cat that would need ongoing medical care.
That didn't matter to me. Tina was my cat, and I was taking her home.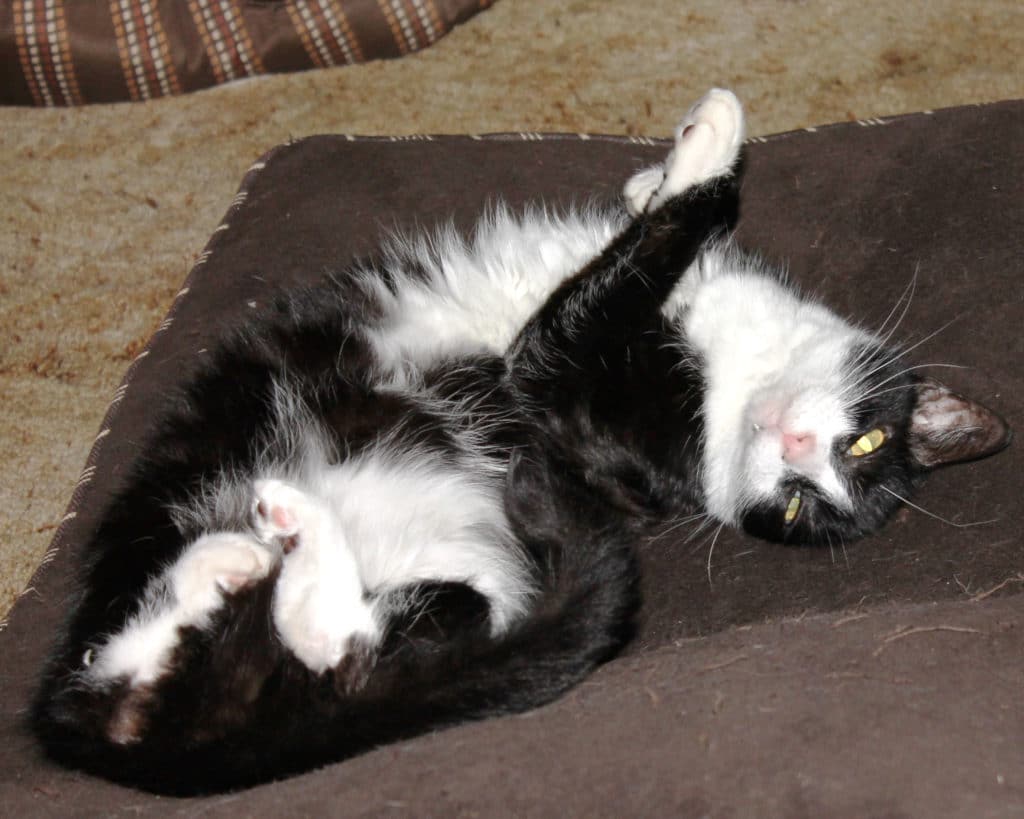 Financially, she turned out to be the most expensive "free" cat I ever adopted. She required several other ear surgeries, surgery for an eyelid that turned in, expensive treatment for hyperthyroidism, and numerous other medical treatments.
Tina lived with me for 14 years until I had to help her cross the rainbow bridge in June 2016.
Adopting Tina was by far one of the best decisions I have ever made.
I would recommend Fayetteville Animal Protection Society, Inc. (FAPS) if you live in Cumberland County, NC. Please visit their website for more information.