All posts may contain affiliate links. Please read my disclosure for more info.
Some cats will walk with a harness on a leash and some won't. If you have an indoor cat who is very interested in going outside, walking on a leash is a possible way to satisfy her curiosity. Below are four steps to show you how to walk your cat on a leash.
I've personally had two cats that have walked on a leash. The first was Tina who passed in 2016. She used to try to run outside frequently, and when the was diagnosed with cancer, we thought she might like to go outside while she was still well enough to do so.
Our youngest, Munchkin, has also been outside on a leash. She is very smart and we were hoping it would combat her boredom. She enjoyed it until I accidentally set off the car alarm by bending over with the key fob in my pocket. She hasn't been interested in going outside on the leash since then.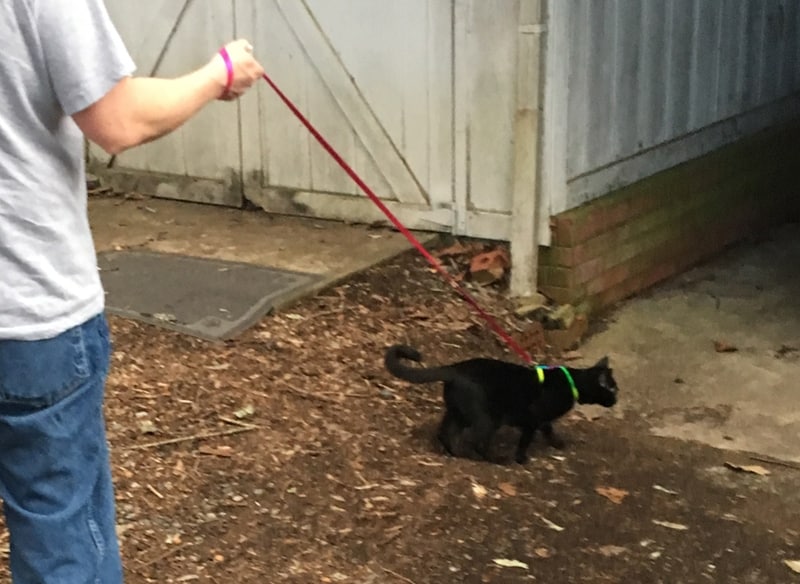 Please join my mailing list. I'll let you know when a new articles are posted.
How To Walk Your Cat On A Leash: 4 Steps
As with so many aspects of pet parenting, the key to getting your cat to accept a harness and lead is lots and lots of patience. It pays to have a sense of humor as well, especially since some of your friends may think you have lost your mind.
Step 1: If Possible, Start Training Young
If you want to learn how to walk your cat on a leash, it's generally a good idea to start your harness and leash training as early as possible. Young kittens can be much more amenable to leash training than older cats, so it pays to get off to an early start. That does not mean that it will be impossible to leash train an older cat – it simply means that the training is likely to take longer and require even more patience.
Step 2: Purchase A Well-Fitting Cat Harness
No matter how old your cat or kitten is it is vital to invest in a well-fitting and secure harness. As you fit the harness look for spots where it may be pinching your cat – an uncomfortable harness will not be conducive to leash training. Also be sure that the harness is secure – a harness that is too loose could allow your cat to slip out of it if she panics or resists.
Step 3: Get Your Cat Used To The Harness
After you have found the perfect harness you can start the training in earnest. Begin by putting the harness on and allowing your pet to wear it around the house. The more your cat wears the harness the more she should come to accept it. Always give your cat a reward for accepting the harness, and always keep an eye on her while she is wearing it.
Step 4: Introduce Your Cat To The Leash
After your cat has accepted the harness it is time to introduce the leash. It is important to go slowly at first – a few minutes a day is fine. It is important for your cat to see the leash as something positive, so be sure to reward her with praise and treats after each training session. Also keep in mind that this training may take some time, so be sure to bring plenty of patience and good humor to this unique training process.